Increase of Up to 15% Effective Across All Petroleum Products Beginning Early February
In late December, suppliers indicated prices would increase by only 12%, but then circled back on Jan. 20 announcing another hike — bringing the total increase to 15% and putting into motion what's called a "double dip" price increase.
Reminiscent of the 2019 double dip, recent announcements have placed suppliers in a pricing quandary. According to Jobbers World, "both blenders and distributors may be going back to their customers with yet another round of finished lubricant price increases while the first was due to be rolled out."
SCL will pass along the latest round of price increases effective on Feb. 5, 2021. To avoid as much of the fallout as possible, we strongly encourage customers to pre-order, allowing them to take advantage of current prices as long as inventory permits.
"This isn't the news we wanted to bring to our customers to start this year, but it's a consequence of the rising cost of raw materials and rising freight costs that have resulted from a labor shortage brought on by COVID," said SCL Vice President of Sales Dan Dziwanowski. "Last year was extremely volatile, we all know that, and a lot of what's happening now with fluctuations in the market continues to be out of our control. What we can and will do is continue to help our customers navigate these issues."
According to Shell, intense stress in the consumer supply chain, the rising costs of raw materials, and higher costs of freight latest are to blame for the latest round of increases. In 2019 and 2020, higher costs of transportation were also blamed.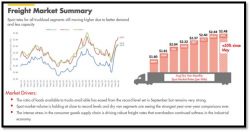 "While we have no control over prices set by major oil suppliers, we can help our customers save on per unit cost by helping them plan what products to buy in bulk or generate some savings long term by optimizing drain intervals," Dziwanowski said. "What we caution them against, however, is trying to save by switching to less expensive lubricants, as the reward can be short lived."
According to Jobber's World, price increases in a number of different areas have created the perfect storm for oil suppliers. One article states, "The need for adjustments is attributed to base oil price hikes as well as increases in the cost of nearly all other raw materials used in blending and packaging of lubricants. These include lubricant additives, plastic resin, and corrugated; as well as higher transportation and manufacturing costs."
Price Increase Announcement Letters:
• Shell General Price Change Announcement – 1.18.2021
Shell Market Conditions – 1.18.2021
Shell Antifreeze Increase Announcement – 1.2021
• Chevron Price Notification Letter – 2.8.2021 REV
• Chevron Price Notification Letter – 12.29.2020
Chevron Price Change Support – 12.29.2020
• Phillips 66 Price Notification Letter – 2.8.2021
• Petro Canada Holly Increase Announcement – 2.5.2021
• Mobil Increase Announcement – 2.1.2021
• Valvoline Increase Announcement – 1.15.2021
• Castrol Increase Announcement – 2.2021
For details on percentage increases by supplier, click here.
For more information on how price increases impact the cost of goods, click here or see the table below.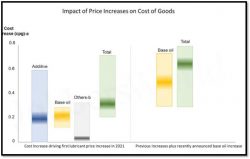 Contact an SCL Consultant today 
In a wide range of automotive, industrial and commercial sectors, SCL remains steadfast on its commitment to product and industry knowledge, performance satisfaction and superior logistics. We protect and optimize the machines that keep our country moving. For more information on how we help can help with services including bulk purchasing or managing inventory, contact an SCL expert today.
Tags:
bulk ordering
,
bulk purchasing
,
chevron
,
cost savings
,
drain intervals
,
finished lubricants
,
oil suppliers
,
Phillips 66
,
price hike
,
price increase
,
shell