About Industrial Manufacturing
We offer quality products that protect investments in manufacturing equipment and lead to precise, repeatable results every time.
Issues
When it comes to industrial machining, time always equals money. Customers within this sector often have their equipment running 24 hours a day, 7 days a week, which can lead to extensive wear and corrosion if proper maintenance isn't followed. They need products that keep operating processes efficient and effective, and they demand finished products that possess precise and repeatable results. Customers need lubricants that keep friction at a minimum and lead to a fine finished product, regardless of whether it's a gun component, a plane part or a high-end instrument. They want reduced waste for optimal working environments, the right coolant to keep machines at optimal temperatures, and low wear so they don't have to worry about replacing anything before its time.
We offer lubricants that help your equipment produce smooth finishes, and other products that maintain performance day after day, run after run.
Solutions
SCL understands the demands of the industrial machining sector, and offers a number of lubricants and coolants to meet those demands. We've helped customers that produce parts for Boeing, trigger components for handguns, and a number of other products that require the utmost in precision for every single product that comes off the line. To achieve that, we offer lubricants that help your equipment produce smooth finishes, and other those that maintain performance day after day, run after run. We know what works with different hydraulic systems, how metals can affect coolant choice, and why it all goes back to performance. We also offer preventable maintenance programs, oil analysis, and education for your staff to ensure everyone understands what you use every day.
Featured Products
Glycols
Glycols are important for chiller units at breweries and wineries, and they help keep processing consistent. We offer a wide range of food-grade specifications to meet applications from kosher to halal as well as H1, H2 and H3 designations.
Industrial Hydraulic Oil
We not only offer industrial hydraulic solutions for everything from rotary vanes to peristaltic pumping systems; our experts understand how to best apply products to fit your application. Choose from an expansive portfolio of solutions for thermal and oxidative stability, corrosion control and more.
Industrial Chemicals
Our chemical portfolio can aid technical and food manufacturing processes used in various industry sectors. From solvents to alcohol, acetones to glycols, SCL experts can source products that meet and exceed the most stringent of quality control specifications.
Industrial Solvents
Solvents are used to not only dissolve or dilute other substances but also as chemical intermediates, fuels or even components in a wide range of products. At SCL, we work with reliable partners to ensure quality control and consistency in all types of solvents.
"We go to (great) lengths to ensure every part we produce is up to a certain quality standard. And we make sure that we're partnered up with folks that have the same passion and commitment to consistency that we do."
— Ed Granero, Vice President of Product Development, TAYLOR GUITARS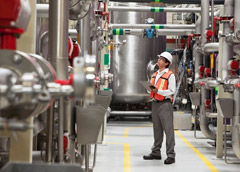 Plant and Equipment Surveys
SCL experts conduct plant and equipment surveys to understand your operation and to ensure your facility managers are abiding by current government regulations and safety precautions. We offer recommendations on everything from installing proper equipment around chemicals to overhauling safety precautions.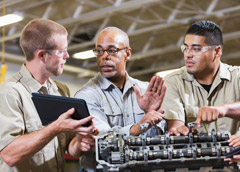 Product Application Training
More so than just providing the correct products to your team, we work with your staff to ensure they understand how to utilize them at your facility. Education is a core value for us -- at our business and yours.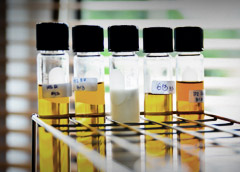 Oil Analysis
Our oil analysis option ensures that your products are performing to their standards. We work with customers to test fluids at specified time or distance intervals to better educate on any potential red flags or inconsistencies.