How We Serve Our Marine Partners
SCL allows you to access environmentally friendly product options when you need them.
Issues
More than most other industries, the marine sector is bound by EPA regulations for diesel exhaust fluid, lubricants and all other products they rely on to get from port to port. They rely on environmentally friendly options that, many times, other distributors do not have on hand due to cost and unpredictable demand. Sport fishing boats, commercial tuna ships, cruise lines and fleets often need immediate access to EPA-approved products at ports of arrival with little notice or business suffers. And due to their operating conditions, maintenance is often unpredictable and frequent.
SCL has the capability to store numerous SKUs on hand, so the vast majority of the time, we can deliver products the next day or the same day.
Solutions
SCL has the capability to store numerous SKUs on hand, so 99.5% of the time, we can deliver products the next day or the same day. Due to our relationships with cruise lines, sport and commercial fishing operators, our stock includes a number of environmentally friendly, EPA-approved products for marine use. We offer diesel exhaust fluid, often in large quantities, hydraulic fluid, lubricants, engine oils, fuels and more to partners at ports all along northern and southern California. We can also help determine the right product choices based on your equipment and your application, which can ultimately help cut down on maintenance costs and save precious time you could otherwise spent in port.
Drivers have undergone maintain OSHA 30 Construction and General Industry safety training courses.  To promote safer work practices and prevent accidents and exposures, OSHA 10 (Construction), OSHA 10 (Maritime) provide SCL Team Members with the skills and knowledge that is necessary to enforce safety and health at work.  Dry Dock Training and Certification and Driver Background Investigations (DBID) continue our commitment to workplace safety.
Marine Engine Oil

SCL offers a portfolio of the most advanced marine engine oils to handle the toughest of applications. Provide your vehicles with additional protection to fight against sludge and wear, all the while keeping pistons cleaner and engines lasting longer.
Marine Grease
High-quality marine greases reduce friction and excess wear on various mechanical components. Their application, however, can often be infrequent, which is why maximizing your service interval is critical to the longevity of your equipment.
Marine Hydraulic Oils
We not only offer hydraulic solutions for everything from rotary vanes to peristaltic pumping systems; we understand how to best apply products to fit your application. Choose expert solutions for thermal and oxidative stability and corrosion control and more.
Products
EPA-Approved Options for Marine Use
Heavy duty motor oils
Passenger car motor oils
Transmission fluids 
Gear oils
Greases
Hydraulic oils 
On-Site Fueling
Oil Analysis
Disposals
Food grade products
Ethylene Glycol
Propylene glycol
Methanol
Lacquer Dilutents
Stoddard Solvents
Acetone
Bulk tanks  
Sunoco Race Fuels
"SCL has a bunch of SKU numbers that we could never keep in stock, but they have available for us as needed."
—Gary Fenelli, Vice President and General Manager, FRANK MOTORS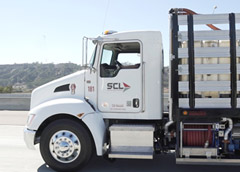 Logistics
At SCL, we coordinate deliveries to your facility, and even work to ensure re-ordering occurs when it needs to so that you can concentrate on the everyday demands of your business.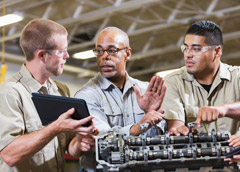 Product Application Training
More so than just providing the correct products to your team, we work with your staff to ensure they understand how to utilize them at your facility. Education is a core value for us -- at our business and yours.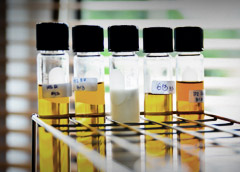 Oil Analysis
Our oil analysis option ensures that your products are performing to their standards. We work with customers to test fluids at specified time or distance intervals to better educate on any potential red flags or inconsistencies.