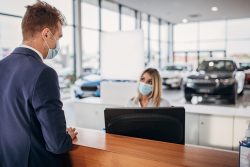 SCL Explores Three Major Issues + Three Predictions for Automotive in 2021
While major players in the automotive industry offer an optimistic outlook for 2021, dealerships and service departments throughout California poised to rebound continue to play the waiting game with state-mandated closures.
The solid victories that came out of 2020 – greater than anticipated bottom lines and service departments that helped weather the storm – did not come at a price. As the industry looks to continue its slow rebound, there are still three major lingering issues from 2020 that need to be addressed.
In this article, we bring those issues to light and offer predictions for what will come out of them as we continue the slow climb from one challenging year into another.
Issue: Obstacles Related to Supply Chain Disruptions, COVID Closures
Solution: Smaller Discounts, Tighter Belts to Continue Among Dealerships
According to Automotive News, while 2020 was "the biggest one-year decline in U.S. light vehicles sales since the Great Recession," dealerships were able to face that challenge – and many others, including tight inventories – by limiting discounts.
"On the sales side, people stopped giving away cars like they used to," said SCL Customer Solutions Representative Don Parker, who holds over 40 years of experience in the automotive industry. "The pre-owned market also got a boost when the rental car companies flooded the market with inventory, which helped pricing. The practice of not lowering prices will continue into 2021 as long as product is limited, which it's looking like it will continue to be."
Cutting back on discounts led to a rise in consumer spending by 10% in the 4th quarter of 2020, according to Automotive News, despite a 2.4% decline in sales compared to the last three months of 2019.
Those numbers also reflect a lot of other hard-fought battles, said Parker. To maintain bottom lines, dealerships have had to dramatically reduce staff, stagger shifts, and find new ways to serve customers. Those practices will most likely continue until dealerships can safely reopen on-site sales and disruptions in supply chains level off.
Issue: Service Side Hamstrung by Mandates
Outlook: Pivot Service Offers Based on Customer Behavior, New Trends
Although service departments are considered essential and have stayed open throughout the pandemic, when people aren't commuting, there is far less service to be had.
"There was a lot of optimism with the new year, but among the shop owners I see, the work isn't the same – people aren't spending as much, they're getting what's broken fixed, but the big maintenance that used to come in isn't happening," Parker said. "They were beginning to reopen, see some traffic increase, and then the shutdown mandates occurred again. Any progress they've made is – right now – on pause."
In the meantime, progressive dealerships are continuing to lean on contactless service options, which may expand in the year ahead.
A recent survey published in AutoInc. shows more than 60% of Americans are interested in having a professional technician come to their home to perform required maintenance. Of those, 55% say they wanted that service for free.
That same survey showed that among the 18-34 and 35-54 age demographics, over 50% stated they'd be interested in someone coming to pick up their car for service, again as long as it's free.
According to AutoInc., those services could be a short-term remedy to get business but may not be productive in the long term as far as return on investment.
Issue:  Ban on Combustion Engines in California
Outlook: Rise in Electric Car Sales, Light-Duty Trucks
While we don't expect Gov. Gavin Newsom's recent ban on combustion engines to have an effect on car sales in the short term, there are two interesting trends that have come out of sales existing alongside – and in spite of – that ban in 2020.
Auto manufacturers are increasingly focused on delivering more electric car models, with GM announcing in November it was bringing 30 new electric vehicles to market in the next five years. On the contrary, compact car sales fell below 1 million while over 2.4 million full-size pickups sold.
Overall, global car sales are expected to increase overall – with electric vehicles and light-duty and medium-duty trucks already gaining attention moving into 2021.
One thing is for sure: there's a lot of uncertainty moving forward into 2021 and still many challenges for both dealerships and shops, the first of which among SCL customers is the ongoing state shutdown.
"Business success is dependent on how open we are and how close we can get to pre-COVID sales," Parker said. "We know everything will come back as it was, but we are optimistic the automotive industry will rebound and continue to adapt."
Contact an SCL Consultant today

 
In a wide range of automotive, industrial and commercial sectors, SCL remains steadfast on its commitment to product and industry knowledge, performance satisfaction and superior logistics. We protect and optimize the machines that keep our country moving. For more information on how we help can help with services including bulk purchasing or managing inventory, contact an SCL expert today.
Tags:
automotive
,
automotive dealers
,
automotive dealerships
,
automotive service
,
california closures
,
combustion engine ban
,
electric cars
,
Gavin Newsom
,
internal combustion engine ban
,
new car sales
,
supply chains
,
used car market