New Product Line Offers Biodegradable, High-Performance Product Options
While the use of biodegradable lubricants has long been required by law to protect coastlines and offer protection for consumers in food-grade manufacturing, a new line now available through SCL from Renewable Lubricants offers more environmentally friendly options for companies that want to go above and beyond the standards.
Renewable Lubricants, the largest and oldest environmentally friendly lubricant provider in North America, offers lubricants, greases and cleaners for a wide range of high-performance applications including automotive and diesel, industrial manufacturing, food manufacturing, agriculture, and more.
"We made a commitment several years ago that we would continue to pursue environmentally friendly products and services for our customers who really want to go beyond what our state and federal government requires," said SCL General Manager Travis Becktel. "These products are a high-performance option for those who want to make the investment in renewable and biodegradable products that lessen the impact on our environment. Offering this product line – and other eco-friendly products – is a move we are proud of in more than one way."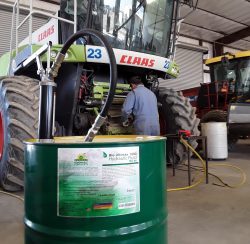 Products within the Renewable Lubricants brand are made from biodegradable vegetable oils formulated with anti-wear, rust/corrosion and oxidation inhibitors, and a tackifier. According to the company, they provide improved fire resistance over equal viscosity petroleum products and contain no chlorine, zinc, or heavy metals.
"In the past, environmentally products were drastically more expensive than petroleum-based products and not an accessible option for most of our customers," Becktel said. "This line makes that price point much more attainable, and it offers an alternative that many companies could not or would not consider previously. These products also a great alternative for those who want to avoid the high fines often associated with accidental spills."
The EPA and USDA have long held strict requirements with regard to the usage of biodegradable lubricant products while promoting them as an alternative to the country's reliance on petroleum. Through its BioPreferred® Program, the USDA has sought to increase the usage of such products as a means to increasing the use of renewable agricultural resources as well as reducing the adverse environmental and health impacts of petroleum-based products.
Renewable Lubricants contributes a portion of all sales to local and foreign missions, and charitable causes.
Contact an SCL Consultant today 
In a wide range of automotive, industrial and commercial sectors, SCL remains steadfast on its commitment to product and industry knowledge, performance satisfaction and superior logistics. We protect and optimize the machines that keep our country moving. For more information on how we help can help with services including bulk purchasing or managing inventory, contact an SCL expert today.
Tags:
automotive
,
california emissions
,
diesel
,
eco friendly
,
eco friendly products
,
environmental
,
environmental regulations
,
EPA
,
FOOD MANUFACTURING
,
lubricants
,
renewable products
,
renewables
,
USDA