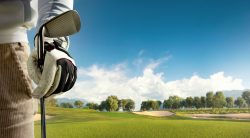 Recovery Continues for Other Sectors of Manufacturing Nationwide
Pandemic shutdowns have had a devastating effect on manufacturing in all segments, with drops in employment at a peak in April 2020. As manufacturing continues to remain below 2019 levels, according to a 2021 outlook by Deloitte, the trajectory of the decline has slowed.
"Before the pandemic hit, the manufacturing industry was working to regain the momentum it had reached after the 2008 recession. However, after the first wave of pandemic-driven shutdowns, segment recoveries for various manufacturers have been uneven," the 2021 Manufacturing Outlook by Deloitte states.
While a large portion of SCL customers avoided shutdowns due to the essential nature of their business – namely their manufacture of products for aerospace, the military, government and medical fields – many others have wrestled with shutdowns in the past year.
While an unstable future has led many to innovate and adapt, manufacturers in the golf industry have experienced a less-than-expected boost thanks to increased demand for the socially distanced game.
Rising Demand for Socially Distanced Golf
A survey of over 300 clubs in 45 states and several international properties found that 81% of facilities reported an increase in the number of rounds (through September). Spurred on by social distancing recommendations and a desire to get outside, there's also a surging 14 million millennials now interested in playing a game of on-course golf. After years of a reportedly widening generation gap, factors including greater diversity in golf have also begun to attract members of Generation Z, born from the late 1990s through the mid-2010s.
All of those factors combined have brought benefits to the manufacturing market in San Diego and SCL customers who create components for clubs and other golf products. Home to international golf brands like Callaway Golf, Taylor Made, Titleist, Cleveland Golf and others, the San Diego area has long been known as a major player in manufacturing world-class golf equipment.
"SCL manufacturing customers cover a wide range of sectors with a wide range of needs," said SCL General Manager Travis Becktel. "When there's movement in one sector, we know it. Golf has truly benefitted from being a niche, which many were predicting at the start of the pandemic could be a drawback. Naturally, whenever you have greater consumer demand for products – like high-end clubs – you'll seen an uptick in production, which is what's happening now."
SCL has long provided coolants, oils and greases for a variety of golf manufacturers with Boeing-approved coolants like Chemetall's Tech Cool 35052 and 795 B Houghton being a go-to product in the machining of club components.
Contact an SCL Consultant today 
In a wide range of automotive, industrial and commercial sectors, SCL remains steadfast on its commitment to product and industry knowledge, performance satisfaction and superior logistics. We protect and optimize the machines that keep our country moving. For more information on how we help can help with services including bulk purchasing or managing inventory, contact an SCL expert today.
Tags:
2021 manufacturing outlook
,
COVID
,
essential business
,
golf
,
golf manufacturing
,
pandemic
,
San Diego golf