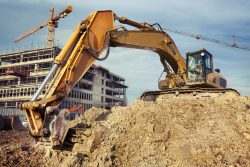 SCL Partners Report Little Disruption to Projects Currently Under Way
In the days following a state mandate by California Gov. Gavin Newsom that non-essential businesses close in an effort to minimize impact of the coronavirus (COVID-19), SCL customers reported little disruption to construction projects.
The Association of General Contractors of America (ACG) has stated it is closely monitoring the epidemic, as well as government measures aimed at lessening the virus' impact, but it has yet to provide any recommendations on stopping projects.
On the contrary, the organization has petitioned the federal government to recognize construction as an essential business, especially after a list of "critical infrastructure" industries released by the Department of Homeland Security failed to include it.
While states have been encouraged to use the DHS list as a guideline when considering state and local COVID-19 responses, it is not tied to any federal mandate. As such, construction projects have continued to move – even those directly tied to the federal government.
WHAT'S GOOD IN CONSTRUCTION
According to SCL Fuels Specialist Keith Kerslake, dirt moving right now is on projects bid anywhere from 6-9 months ago.
"These projects have already been planned, there are already commitments that have been made and deadlines that have been set. I've seen no one winding down," Kerslake said. "One of our larger partners is still working on a project that will go for three years, and they've given no indication they weren't moving forward with that. Everything on the table is still happening."
According to ACG, only a "nominal number" of projects nationwide have experienced any delays at all, and those were largely related to the delivery of manufactured and raw materials. The organization has also reported the virus has yet to impact the work force or development of projects.
WHAT'S CONCERNING IN CONSTRUCTION
There is always concern related to businesses delaying or getting out of contracts that have already been instituted due to the delays in material delivery or shortages of labor, but that has yet to materialize.
The concern right now for SCL construction partners has to do with projects yet to be bid, that is builds and tear downs scheduled to start 6-9 months from now.
"If we head into a recession obviously it will affect monies to be able to go into investments, new construction, that sort of thing," Kerslake said. "In 6-9 months, if we have fewer construction projects or deconstruction projects, we could see a drop in construction fueling and, obviously, fueling across the board."
OPPORTUNITIES IN CONSTRUCTION
Right now, SCL partners are focused on business as usual, but that doesn't mean customers are necessarily searching for acquisition or other investment opportunities.
According to Kerslake, although it'd be a great time for any business to consider expanding, like other industries, construction partners are more or less in a wait-and-see mode.
"Anything new, new customers, new commitments, existing opportunities, people are probably not going to make a move right now until we get a better feeling of what's going to happen," he said. "They may have plans, but it doesn't feel like anyone is going to commit right now."
How that will affect projects moving into the fall, when contracts currently being executed come to an end, remains to be seen.
Contact an SCL Consultant today 
In a wide range of automotive, industrial and commercial sectors, SCL remains steadfast on its commitment to product and industry knowledge, performance satisfaction and superior logistics. We protect and optimize the machines that keep our country moving. For more information on how we help can help with services including bulk purchasing or managing inventory, contact an SCL expert today.
Tags:
construction
,
construction bids
,
construction fueling
,
coronavirus
,
coronavirus epidemic
,
essential business
,
fuel
,
material delivery
,
on-site fuel delivery
,
supply chains