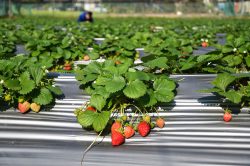 Northern California Farmers Turn to SCL for Preparation, Guidance as Year Closes
As 2020 comes to a close and businesses across the board continue to wrestle with shutdown mandates, our partners in agriculture are experiencing a mixed bag of conditions as they prepare for planting and producing in the months ahead.
While a lack of expected heavy rains has made the typical winter work of preparing fields easier, tightened emissions requirements by the state announced in August continue to challenge everything from equipment inventories to maintenance schedules.
"With the rains holding off, the orders have increased as our customers are able to ready their farms and acreage for the various crops they are planting and producing," said SCL Customer Solutions Representative Kevin Larson, who serves customers in Alameda County east of the Bay Area. "We're also seeing farmers adopt new technologies to help them navigate factors like the increased demand for food, the weather and new state requirements."
California drought and drought-like conditions have historically cost the $50 billion agricultural industry billions more each year in lost revenue. As producers of 2/3 of the country's food – and a growing portion of international food supplies – California farmers have welcomed the reprieve in extreme weather.
What has not subsided – however – is the continued introduction of tightened emissions requirements. According to the Los Angeles Times, the California Air Resources Board (CARB) adopted new standards in late August 2020 to reduce allowable emissions of nitrogen oxides from new trucks 90% by 2027.
The rule is the state's biggest cut in smog-forming pollutants since 2008 and affects "nearly two-thirds of 26 million light-duty vehicles currently operating in California," states the Los Angeles Times.
In order to meet those standards – and others – farmers have had to adopt an almost constant schedule of upgrading equipment and staying current on lubrication requirements for that equipment – whether it is loaned or purchased.
"With new or different equipment comes the need for new and different maintenance schedules, lubricants, and other considerations that farmers often do not have the bandwidth to take on by themselves," Larson said. "Fortunately, we do. That has allowed us as their fuel and oil supplier to be more of a business partner and adviser by staying up on lubrication requirements for every piece of equipment they have on site and everything that goes into ensuring that equipment runs smoothly."
SCL has also long offered a loaned equipment program for customers within and outside the agricultural sector.
"Farmers have always weighed the benefit of owning or renting/leasing their equipment," Larson said. "The constant upgrading of equipment to meet governmental regulations can often sway this decision. No matter which way our customers decide to go, we are a valuable asset in helping them adhere to strict lubrication requirements for all the equipment they use to conduct business."
Although the challenges for farmers, which are complicated by a dwindling supply of ground water reserves, are not new, our partners in the industry continue to operate while adhering to regulations that are among the strictest in the world.
Contact an SCL Consultant today 
In a wide range of automotive, industrial and commercial sectors, SCL remains steadfast on its commitment to product and industry knowledge, performance satisfaction and superior logistics. We protect and optimize the machines that keep our country moving. For more information on how we help can help with services including bulk purchasing or managing inventory, contact an SCL expert today.
Tags:
agriculture
,
california
,
California drought
,
california emissions
,
emissions
,
emissions requirements
,
Gavin Newsom
,
loaned equipment