California Fuel Tax Set to Increase July 1st
A tax increase on motor vehicle and diesel fuels is coming to the state of California, effective July 1st, 2019. According to a special notice issued by the state of California's Department of Tax and Fee Administration, "The prepayment rate for each gallon of gasoline, aircraft jet fuel, and diesel fuel is calculated at 80 percent of the combined state and local sales tax on the average selling price of the fuel, excluding sales tax, as reported by industry publications. By March 1 of each year, the CDTFA is required to establish the sales tax prepayment rates. The CDTFA may adjust these rates during the year if changes in fuel prices cause fuel retailers to prepay too much or too little tax. The CDTFA will notify you by special notice if this occurs."
Effective July 1st, the tax rates for motor vehicles and diesel fuel engines will be as follows: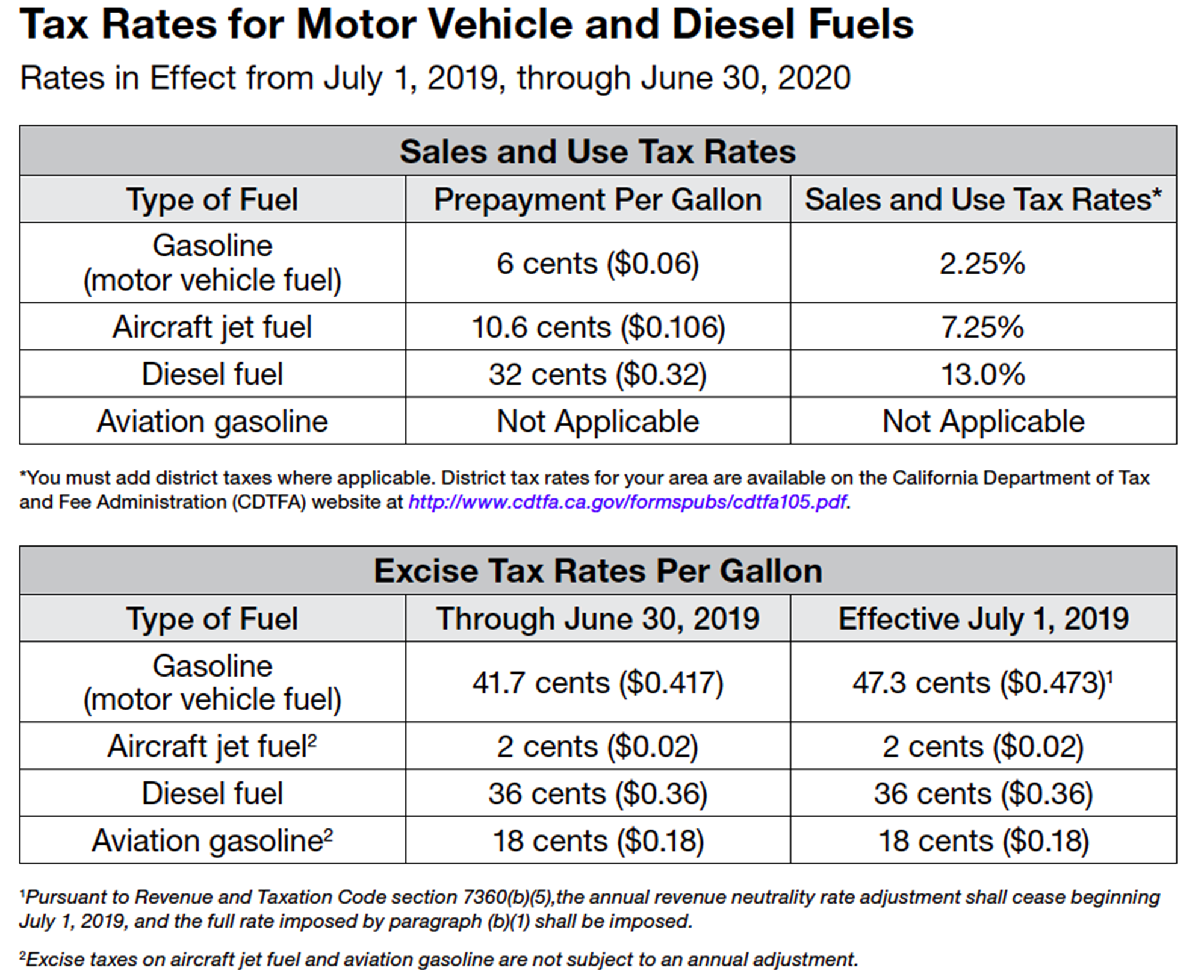 Cost Saving Solutions for the Pending Tax Increase
Californian consumers can expect a tax increase on gasoline and diesel vehicles, which now places the state in the lead for highest fuel tax rate in the nation, bypassing Hawaii once the rate goes into effect July 1. Whenever a new tax kicks in, suppliers in the industry have to pay a floor tax where they calculate their inventory and pay back taxes on it at a later date. As soon as the new tax increase goes into effect, businesses are not only paying the new tax rate, but also the difference, which prevents them from buying a surplus of fuel to stockpile at that lower rate and then sell at a higher price later. By speaking with an SCL representative you can assess your inventory needs, learn how to consolidate your inventory, monitor inventory electronically or switch to synthetic products that will extend drain intervals and improve fuel economy. Staying ahead of the curve will allow your business to more effectively weather market fluctuations.
Contact an SCL Consultant today
In a wide range of industrial sectors, if there's metal touching metal, oil is involved. At SCL, we're here to protect and optimize the machines that keep our country moving and we pride ourselves on providing superior logistics and solutions, extensive product and industry knowledge and total performance satisfaction for our customers. For information on how we can assist your fleet in choosing the optimal products at a competitive price, contact an  SCL, consultant today.
Tags:
california
,
California tax
,
California tax increase
,
diesel fuel
,
excise tax
,
fuel
,
fuel tax
,
fuel tax increase
,
gasoline
,
lubricants
,
price increase
,
SCL
,
sclubricants
,
southern counties lubricants
,
tax
,
tax increase
,
taxes