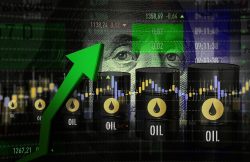 Continued Rising Costs in Manufacturing Cited for Increase of Up to 12%

According to a new round of announcements by manufacturers, pricing for all finished lubricants, greases, chemicals, coolants, and antifreezes will increase up to 12% beginning May 17.
The third price increase announcement of the year is attributed to "continued increases in nearly every raw component used to manufacture lubricant products, according to JobbersWorld.com.
In early April, Gulf-based Ergon announced an increase for naphthenic base oils, following similar initiatives implemented by Cross Oil and Calumet. On the paraffinic side, most producers raised posted prices by $0.20 to $0.55 per gallon in late March and early April.
"These increases are always difficult to navigate, but not impossible to navigate, especially when we have numerous tools to help customers make up those added expenses by streamlining in other areas," said SCL Vice President of Customer Solutions Dan Dziwanowski. "All of the services that we offer – from oil analysis to preventive maintenance to exploring alternative products in line with your OEM specifications – those are all tools that we know help business run more efficiently, despite additional challenges that may arise."
To take advantage of current pricing, place orders as soon as possible as availability will be determined by demand.
For detailed information on the latest round of 2021 price increases for each oil supplier, visit JobbersWorld.com.
Price Increase Announcement Letters
• SCL Notification Letter – 5.2021
• Chevron Price Increase Announcement – 5.17.2021
° Chevron Price Change Support Documentation – 4.2021
• Shell Price Increase Announcement – 4.5.2021
° Shell Market Conditions Deck – 4.2021
• Phillips 66 Price Increase Announcement – 5.2021
• Mobil Price Increase Letter – 5.2021
• MKS Plastics Price Increase – 5.2021
Contact an SCL Consultant today 
In a wide range of automotive, industrial and commercial sectors, SCL remains steadfast on its commitment to product and industry knowledge, performance satisfaction and superior logistics. We protect and optimize the machines that keep our country moving. For more information on how we help can help with services including bulk purchasing or managing inventory, contact an SCL expert today.
Tags:
finished lubricants
,
oil price increase
,
oil prices
,
Phillips 66
,
premium products
,
price increase
,
shell