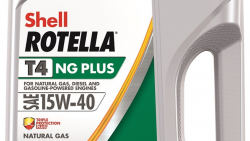 Applicable Across Natural Gas, Gas, and Diesel Engines, Product Could Spur Significant Savings
Now more than ever, businesses across the board are exploring new ways to make every penny count. Traditional practices are being put under a microscope and products long on auto-order are being scrutinized to ensure the most cost-effective moves are being made.
For fleets, said SCL Vice President of Customer Solutions Dan Dziwanowski, that scrutiny should include evaluating the type of oil you're putting into your machines.
"Fleets usually have a mix of different vehicles, so they tend to carry multiple products," Dziwanowski said.  "Many times, our customers will say, 'Hey, I need 15-40 for my diesel trucks and another product for my natural gas trucks. Now Shell has come out with a product that meets both of those specifications, which allows you to consolidate your products."
Shell Rotella T4 NG Plus 15W-40, now available through SCL, meets the needs of a wide range of specifications for Natural Gas Engine Oil, Heavy Duty Diesel Engine Oil and Passenger Car Motor Oil, according to Shell. In the short term, that could mean fewer purchase orders for your business – equating to hundreds of dollars in saved revenue – and in the long run a significant savings in fuel economy and maintenance.
Through extensive testing and a multi-year field trial, Shell states, Shell Rotella T4 NG Plus 15W-40 performed above benchmark in a variety of engine types and meets "elevated standards of deposit control and oxidation control required by the new Cummins natural gas specifications."
Some Cummins natural gas engines tested helped to extend drain intervals up to double the time, while maintaining levels of protection and efficiency for users of LNG engines.
Shell Rotella T4 NG Plus has been approved for use in the following applications:
NATURAL GAS ENGINE OIL
Superior oxidation protection for hotter running engines.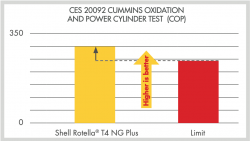 • Cummins CES 20092 (replacing CES 20085, which became obsolete Dec. 31, 2019)
HEAVY DUTY DIESEL ENGINE OIL
Strong wear performance in tests measuring valve train wear under moderate soot loading, ring and liner wear inside cylinders, copper and lead erosion protection, and oxidation resistance.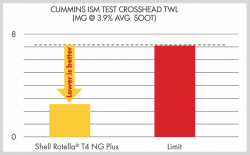 •  API CK-4
•  Cummins CES 20086
•  Mack EOS-4.5
•  Volvo VDS-4.5
•  Detroit Diesel DFS 93K222
PASSENGER CAR MOTOR OIL
Protection against sludge and varnish deposits, and wear from bearing weight.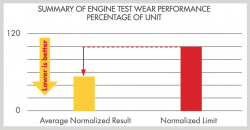 •  API SN
In addition to providing potential cost savings in fuel economy and optimized service intervals, Shell Rotella T4 NG Plus is a much simplistic option for fleets that have been working to incorporate more Natural Gas Vehicles (NGVs) to reduce carbon footprint, states FleetOwner.com.
"For fleets that have a number of different vehicles types, this is a worthy investment for a number of reasons, including the removal of human error," Dziwanowski said. "If you have an operator that accidentally puts diesel into a gas engine, that can be catastrophic. This helps protect your business from those unforeseen expenses while removing an unnecessary burden from your employees."
Other key benefits that lead to cost savings in both the short- and long-term include:
•  Longer and more efficient operation due to a formula that balances detergent and dispersancy to keep pistons and engine cleaner
•  Longer valves and spark plug life due to additives that control the deposit formulation in the combustion chamber
•  Lower ash formulation to protect exhaust catalysts and particulate filters found on the latest low emission vehicles
For more information on whether Shell Rotella T4 NG Plus 15W-40 is right for your fleet, contact your SCL representative.
Contact an SCL Consultant today 
In a wide range of automotive, industrial and commercial sectors, SCL remains steadfast on its commitment to product and industry knowledge, performance satisfaction and superior logistics. We protect and optimize the machines that keep our country moving. For more information on how we help can help with services including bulk purchasing or managing inventory, contact an SCL expert today.
Tags:
consolidating inventory
,
diesel engines
,
drain intervals
,
fleets
,
gas engines
,
medium duty trucks
,
natural gas
,
shell