Our Approach to Bulk Fuel Delivery
SCL understands that time is money, which is why we deliver convenient, bulk mobile fuel delivery solutions to both construction sites and remote fleets.
Features
Fuel containment and bulk storage are efficient and scalable to your needs. But they can cost your business efficiency when empty. We offer "just in time delivery" and reduce headaches with tank monitoring that alerts our team to head your way.
Delivery by the gallon isn't easy: the average person cannot drive with over 119 gallons in a single container or compartment which the Department of Transportation (DOT) classifies as bulk transportation. Be sure to align with a partner that has all the containment certifications, required hazmat endorsements, placards rigorously in place meeting all CHP and DOT requirements as well as Class A or B commercial drivers depending on the load requirements. Safety is paramount at SCL, and our team of drivers has undergone multiple levels of OSHA training including OSHA 30 Construction and General Industry, OSHA 10 (Construction), OSHA10 (Maritime). SCL can access any location requiring Dry Dock Training and Certification and Driver Background Investigations (DBID) performed.
On-site fueling is all about convenience for our customers and logistical control for those who need to save time while monitoring operating expenses.
Benefits
At SCL, our trucks deliver fuel on demand to customers requiring either bobtail or wet-hosing services across California including San Diego, Los Angeles, Orange and Riverside Counties, Lancaster and the high desert, and the Bay Area. We're also equipped with fast-flow nozzles, which pump out fuel at a rate of 50-60 gallons a minute, which saves on valuable equipment downtime. On-site fueling is all about convenience for our customers and logistical control for those who need to save time while monitoring operating expenses.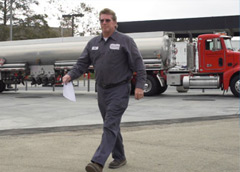 Fuels
Constant fluctuations in fuel pricing make it extremely difficult to manage or predict costs. SCL experts can help optimize your fuel consumption by understanding your specific needs and introducing simple and effective solutions.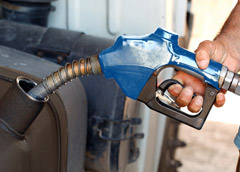 Diesel Exhaust Fluid (DEF)
DEF, a non-hazard blend of 32.5% urea and 67.5% de-ionized water, is sprayed into the exhaust stream of diesel vehicles. SCL delivers DEF to your facility, guides you on storage, and ensures supply never runs out.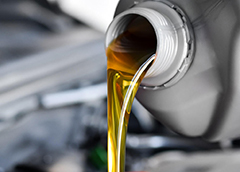 Lubricants
SCL provides lubrication technology for nearly every application. We understand that utilizing the right lubricants can minimize friction between components, increasing production efficiency while extending the lifespan of your engines.
Agriculture
We understand the needs of the agricultural community, and we offer a wide variety of products for that industry sector as a result. Between heavy regulations customers face on a daily basis to never-ending obstacles they regularly overcome, we know the value of common-sense solutions when it comes to helping our agricultural customers. At SCL, that means providing everything from on-site fueling to environmentally friendly lubricant applications.