Super Low Sulfated Ash Product Extends Service Intervals, Improves Fuel Economy
A revolutionary product announced by Chevron for the Heavy Duty Engine Oil (HDEO) market is now available through SCL, and supporters are calling it a "gamechanger."
Chevron Delo 600 ADF with OMNIMAX, specifically formulated to drastically reduce the rate of Diesel Particulate Filter (DPF) clogging and extend service life for off-highway heavy-duty vehicles, delivers maximum protection to both the engine and emissions systems.
According to Chevron, "current heavy-duty engine oils are formulated up to the API CK-4 limit of 1% sulfated ash. Chevron's Delo 600 ADF is formulated to 0.4% sulfated ash," which not only reduces the rate of clogging but also greatly redefines fuel economy retention.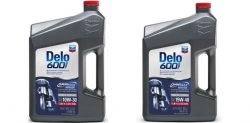 "This product really is a gamechanger for our customers with fleets, heavy-duty construction, and any others with vehicles that have DPF systems," said SCL General Manager Travis Becktel. "It not only alleviates the issue of filter clogging – a very common and expensive process – and extends service intervals by a reported 2.5 times; it also improves fuel economy by 3%. Those stats alone make this product a hard one to ignore. It's truly one that all of our customers should look into as a long-term, cost-savings measure, if nothing else."
The product, which has been in development since 2003, is the result of over $5 million in investments and an ongoing commitment by Chevron to answer OEM concerns.
Alleviating the DPF Clogging Issue
According to Chevron, the DPF collects up to 98% of particulate matter emissions in the form of ash and soot. A regeneration cycle combusts the majority of the soot from the DPF. The ash is incombustible material derived from metallic lubricant additives, meaning that over time it leads to a clogging of the DPF and, often, unpredictable service intervals.
"There are usually a number of factors that contribute to DPF clogs," said SCL Customer Solutions Specialist Amos Molina. "It could be the type of oil being used – especially if it's a mid- to lower-tier oil; it could the type of driving, like long hauls versus short hauls; or even the quality of lubricants and fuels vehicles use. Regardless, clogging is an issue the majority of our customers experience."
In addition to the high cost of DPF replacements (anywhere from $3,000 to $7,000) or cleanings (around $700), clogs force companies to incur costs associated with lost productivity.
"Those are real issues that companies who rely on heavy-duty engines have to deal on a much too frequent basis," Becktel said. "This product, by reducing the particulate size of that sulfated ash, offers a way for businesses in a range of sectors to extend service intervals while also reducing emissions in the process. And we all know that emission regulations for heavy-duty engines have continued to tighten over the past several years anyway."
Chevron estimates that for each off-highway heavy duty vehicle, Delo ADF 600 with OMNIMAX can save companies $4,000 per year or more.
An Added Benefit of Protection
In addition to the benefits that come with reduced sulfated ash particulate, Delo 600 ADF also offers increased protection against oxidation.
A Volvo T-13 performance test conducted by Chevron showed the product far exceeded passing limits for API CK-4.
According to Chevron, all Delo ADF products have been formulated to reduce the level of the metallic component in a lube oil by 60% and replace them with high-performance additive that doesn't contribute to clogging the DPF over time.
For more information about Delo 600 ADF, offered through SCL in 15w-40 and 10w-30 viscosities, contact your SCL representative.
Contact an SCL Consultant today 
In a wide range of automotive, industrial and commercial sectors, SCL remains steadfast on its commitment to product and industry knowledge, performance satisfaction and superior logistics. We protect and optimize the machines that keep our country moving. For more information on how we help can help with services including bulk purchasing or managing inventory, contact an SCL expert today.
Tags:
chevron
,
Chevron Delo
,
construction
,
DPF clogging
,
DPF service
,
DPF systems
,
extended service intervals
,
fleets
,
fuel efficiency
,
heavy duty engine oil
,
service intervals