Leer en Español
How Misreporting Data on Your Fluid Samples Can Cost You Money  
Due to lack of information provide during the oil sample process, most oil analysis labs do not have your original equipment manufacturer (OEM) information and specific fluid information already on file. This can lead to inaccuracy in your overall trending analysis due to incorrect OEM wear-limits and alarms not being in place. When you have abnormal wear conditions showing up as normal, you run the risk of critical and costly component failures. At SCL, we have come to recognize this situation as an industry-wide problem, so when we designed our in-house fluid analysis program for our customers, one of our primary goals was to promote accurate data reporting while also enabling the quickest possible turn-around on sample submissions to the lab. The result – No more long-hand sample submission forms that are a constant hassle for field and service technicians. Sample data can now be submitted immediately and directly from the field via an easy to use mobile platform that is downloaded as an app to your smart phone or tablet.
Rapid, Reliable Turn Around on Fluid Analysis
To assist our customers with a rapid, reliable turn-around on fluid analysis, we have a dedicated team of consultants that will support your asset managers with front-loading all asset ID #'s, OEM data and fluid information being tested per compartment. Once all of the necessary product and asset information has been loaded into our online data bank, customers then receive unique identification number (UIN) barcodes that can be placed on each asset. These Barcodes are meant to be scanned in the mobile app at the time that samples are pulled; linking each asset being sampled to the barcode found on SIF bottle labels on the prepaid sample test package, which can then be placed in the mail.
Mobile Submission – How it works?
The freedom to generate mobile submissions is allowing our customers to stay on top of their fluid analysis program by sending in sample information within as little as 5 minutes. By cutting out unnecessary paperwork, you save valuable time, and you ensure that samples are drawn and submitted in as timely and accurate a manner as possible. As soon as a fluid sample has been taken, open the app on your smart phone or tablet and using the camera on your device, scan the bar code provided for the specific compartment/component being sampled. The barcode is provided at the time of your enrollment into the fluid analysis program. Scan the barcode on the sample information (SIF) form provide in the sample box, which links the component being sampled with the purchased test package. The customer then enters in the specific time on the fluid sample and then hits "Submit." Check the box on the SIF label, affix it to the sample bottle, place it in a prepaid, trackable USPS envelope and drop it in your outgoing mail. Our easy to use fluid analysis sample submission method will cut down the turn-around time between initially drawing a fluid sample to its in-lab arrival by more than half; from 7-10 days to roughly 3 days.
The Bottom Line
Ongoing fluid analysis is a highly effective preventative maintenance measure that over time will give you a clear picture of the internal conditions within your engine and fleet. We have designed a fluid analysis program in partnership with ALS – the world's largest and most diverse analytical testing service provider – that streamlines the process, allowing you to go from sample >> lab >> results in as little as three days. According to ALS Tribology, "The more accurate the information provided along with the increased efficiency in entering the data, the better your turnaround and analysis will be." If you are already utilizing an oil or fluid analysis program, we can support you with importing sample history from your current lab, allowing you to migrate information over to our user friendly mobile submission platform.
Click HERE or on the image below to learn more about ALS Tribology's Webtrieve mobile app.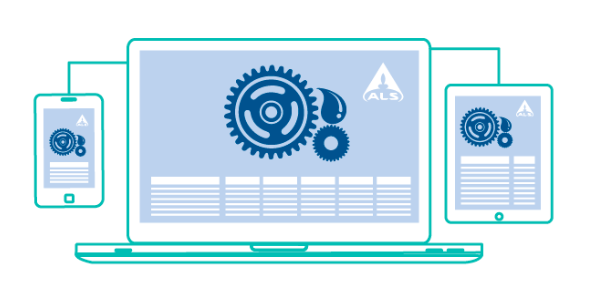 The WEBTRIEVE™ Mobile Application – Key Features
Mobile app is designed for immediate sample alerts

App is available for iOS and Android

Alerts are sent to users based on sample condition

Basic information such as unit, type, condition and diagnostic
commentary are displayed

Historical data can also be accessed through

Webtrieve™ web application by clicking HERE.
Contact an SCL Consultant Today
In a wide range of industrial sectors, SCL is committed to being the number one logistics and solutions provider for the products that protect and optimize the machines that keep our country moving. We pride ourselves on remaining at the forefront of industry trends and technological innovations, and as the market continues to evolve, we are committed to providing extensive product and industry knowledge and total performance satisfaction for our customers. For information on how we can assist your fleet in choosing the optimal products at a competitive price, contact an SCL consultant today.
Tags:
ALS
,
fluid analysis
,
fluid samples
,
lubricant analysis
,
oil analysis
,
oil sample
,
oil samples
,
preventative maintenance
,
SCL
,
sclubricants
,
tribology