Beginning April 1st, if Not in Compliance With the ELD Mandate Rule, Drivers Can Be Placed Out of Service
On December 18th, 2017, the Federal Motor Carrier Safety Administration (FMCSA) implemented a 2-year "Phased-In Compliance Phase" as part of their Electronic Logging Device – ELD Mandate Rule, first published February 16, 2016. Since then, law enforcement agencies have been following a relatively "Soft enforcement." Violations have been categorized as 395.22(a) infractions without the assignment of CSA points or the issuance of out-of-service citations. There has been a fair amount of confusion in regards to the ELD rule for both truck operators and law enforcement alike, especially since AOBRDs are still grandfathered in through December 17, 2019. Beginning April 1st, 2018, the full enforcement of the ELD mandate rule will kick in with the associated CSA points and issuance of out-of-service citations when deemed appropriate. 
What to Expect With This New Timeline of Enforcement
There are some areas where the "soft enforcement" approach is not being followed and law enforcement is moving forward with citations. In this case, when cited for non-compliance with the ELD mandate rule, drivers and carriers will be required to file the necessary documentation and provide adequate records. Fleets should support inspectors in determining what type of ELD they are utilizing to determine proper compliance.
Keep Handy For Inspections in Either Paper or Electronic Form:
Device cab card
ELD user manual
Instruction sheet for producing and transferring date
Instruction sheet for record-keeping procedures and reporting during malfunctions
Blank records of duty status for recording hours of service for at least 8 days
Reasons Why Drivers May Be Placed Out-Of-Service Starting April 1:
For operating an unauthorized logging device that is not registered with the FMCSA
Complete absence of an ELD when driver is required to operate with one
Absence of an AOBRD until December 17, 2019
Falsifying a log by claiming to be part of a special driving category when not technically associated with that category
Inability to successfully transfer date from an ELD to authorized law enforcement
Inability to display or print out data for an inspection with law enforcement
AOBRDs can be placed out-of-service if also unable to display the appropriate records of duty status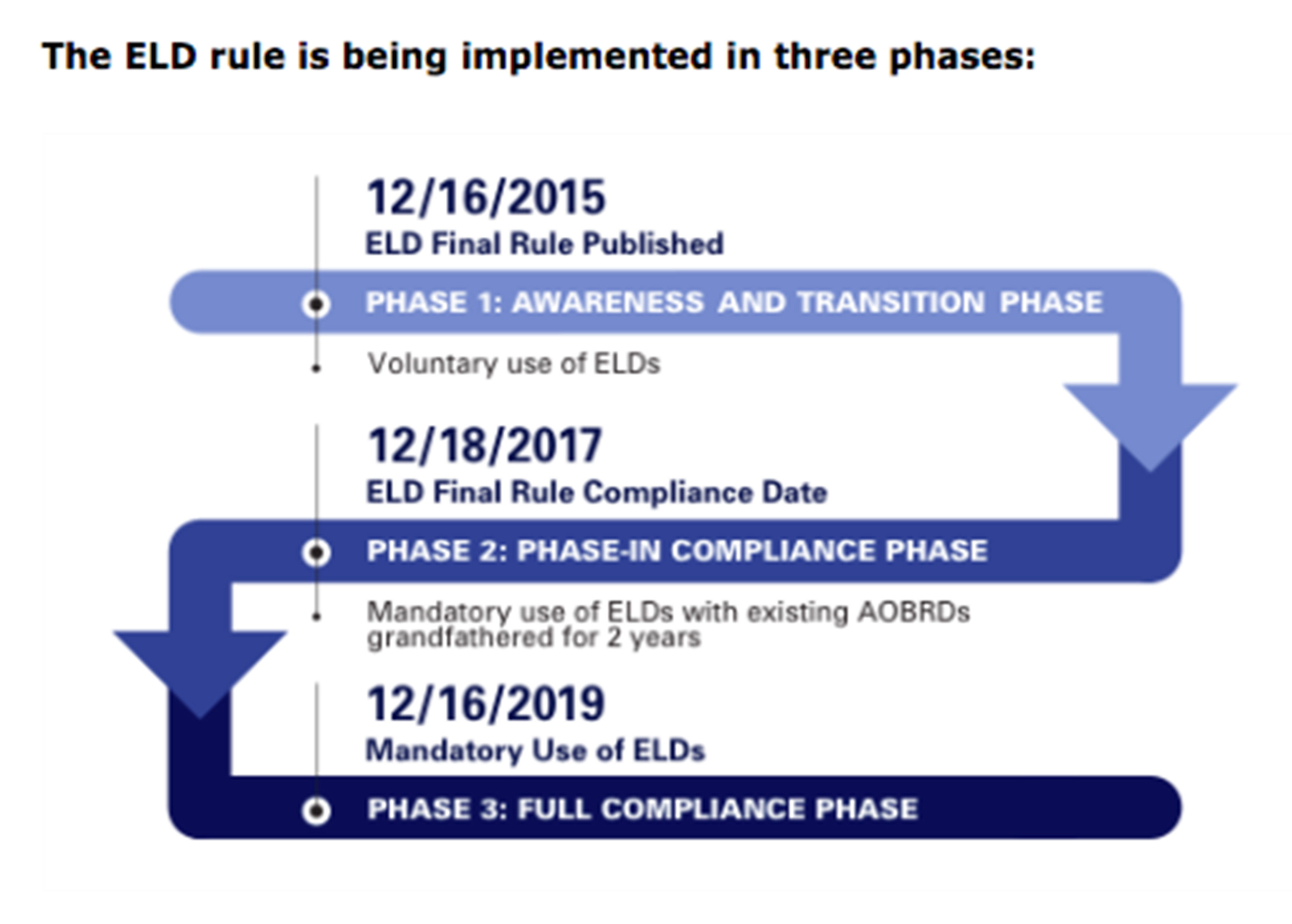 Understanding the ELD Mandate Rule
The "Moving Ahead for Progress in the 21st Century" bill, commonly known as MAP-21 was enacted by Congress in 2012. It introduced criteria for expanded highway funding and the development of a rule that mandated future widespread use of electronic logging devices (ELDs). According to the website ELDfacts.com, "In its simplest form, an electronic logging device — or ELD — is used to electronically record a driver's Record of Duty Status (RODS), which replaces the paper logbook some drivers currently use to record their compliance with Hours of Service (HOS) requirements." The mandate and its predecessors were originally created to mitigate HOS compliance issues and to address concerns over carriers manipulating devices (automatic on-board recording devices – AOBRDs and electronic on-board recording devices – EOBRs) to "harass truck drivers."
The ELD Mandate Rule Explained
According to the FMCSA's ELD Mandate Overview, the ELD mandate requires:
ELD use by commercial drivers who are required to prepare hours-of-service (HOS) records of duty status (RODS)

Sets ELD performance and design standards, and requires ELDs to be certified and registered with FMCSA.

Establishes what supporting documents drivers and carriers are required to keep.

Prohibits harassment of drivers based on ELD data or connected technology (such as fleet management system). The rule also provides recourse for drivers who believe they have been harassed.
The Benefits of ELDs
ELD's allow for the real-time monitoring of a spectrum of data points pertaining to both truck fleets and truck drivers. ELDs monitor and report on driver behavior such as whether they are speeding, idling excessively or hard braking. ELD's also now integrate mapping solutions that allow fleet managers to track routes and support drivers with navigation. They save time and money by reducing cumbersome and wasteful paperwork, they track driver hours electronically, they allow heightened dispatcher-to-driver communication and coordination, optimize load planning and they greatly reduce the obnoxious hassle of operating an antiquated paper log. As technology moves ever closer to wireless, electronic and digitized platforms, ELDs are most likely here to stay.
What You Need to Know About the ELD Mandate Rule
The first phase of the ELD mandate, the "Awareness and Transition Phase," which was published February 16, 2016 began communication with carriers and drivers subject to the rule that "They should prepare to comply, and may voluntarily use ELDs," according to the FMCSA Implementation Timeline using any of the following for records of duty status (RODS):
Paper logs

Logging software

AOBRDs (Automatic On Board Recording Devices)

ELDs that are self-certified and registered with FMCSA
The second phase of the mandate, the "Phased-In Compliance Phase," states that carriers and drivers subject to the rule may usen AOBRDS that were installed prior to December 18, 2017 or Self-Certified and registered ELDs with FMCSA. This 2nd phase will end December 16th, 2019 when full compliance with the mandate will be expected as part of the "Full Compliance Phase" to utilize self-certified ELD's that are registered with FMCSA.
Who is Required to Comply with the ELD Mandate
Most motor carriers and drivers are subject to the ELD mandate if they are currently required to maintain records of duty status (RODS), as per Part 395 of the rule, 49 CFR 395.8(a). This applies to commercial buses, trucks and Canada and Mexico domiciled drivers. As per the FMCSA's Frequently Asked Questions section of their website regarding the ELD mandate, drivers and carriers are exempt from the ELD rule if:
They currently operate under the short-haul exceptions may continue using timecards; they are not required to keep RODS and will not be required to use ELDs

They use paper RODS for not more than 8 days out of every 30-day period

They conduct drive-away-tow-away operations, in which the vehicle being driven is the commodity being delivered

They operate vehicles manufactured before 2000
Contact an SCL Consultant Today
In a wide range of industrial sectors, we're here to protect and optimize the machines that keep our country moving, and we pride ourselves on providing superior logistics and solutions, extensive product and industry knowledge and total performance satisfaction for our customers. No matter where the future of the automotive industry is headed, we will be there to deliver what you need to keep you in motion.  For information on how we can assist you in understanding and remaining in compliance with the December 18, 2018 ELD mandate, contact an SCL consultant today.