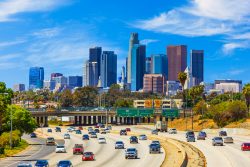 3 Issues Service Departments Should Be Focusing on Now to Get Ahead
With AAA predicting more than 37 million Americans will be traveling for the upcoming Memorial Day weekend, and millions more feeling comfortable enough to spend summer on the road once again, automotive service centers have an opportunity to capitalize.
Here are three issues automotive service centers should be talking to their customers about and preparing for to ensure they don't miss out on much-needed revenue after a tumultuous year.
1. Oil Changes, Air Filters and Optimizing Fuel Economy
Despite an increasing desire to travel, rising gas prices and financial concerns facing many Americans have many customers looking for ways to pinch their pennies. The most obvious – and often overlooked – way to do that is by optimizing fuel economy. One of the most effective ways to do that is through an oil change and regular service maintenance. Likewise, replacing a clogged air filter can also improve acceleration and overall performance on newer vehicles. For older vehicles with a carbureted engine, new air filters can improve both fuel economy and acceleration by a few percentage points.
"Right now, as costs are rising and money is tight, people are considering putting off auto repairs and maintenance, but especially with the travel season coming up, it's not the time to do that," said SCL Customer Solutions Specialist Don Parker, who holds over 40 years of experience in the automotive industry. "Service departments and auto shops can use this as a way to educate their customers and really show them how to get the most out of their dollar – and their vehicle. With costs going up, auto repairs and the materials needed to make auto repairs are also expected to increase. If you take the time to explain that to customers you may find many who have been putting off repairs will decide to take care of those now."
2. Tires
When tire pressure is low – or tires are not performing at their peak – more resistance gets put on a vehicle, which can also adversely affect fuel economy. Especially for customers who haven't brought their cars in for service since the pandemic began over 18 months ago, checking tire pressure is vital – and in some cases, purchasing new tires could also be necessary.
According to Parker, "you want to make sure your customers are on the upper end of air pressure; otherwise they are making a common mistake that can directly impact their fuel economy and their wallets." The U.S. Department of Energy states that for every one PSI drop of tire pressure in all four tires under the recommended number, gas mileage can worsen 0.2%. On the contrary, properly inflated tires can improve mileage by 0.6% on average, and up to 3% in some cases.
3. Staffing
As customers prepare to hit the road for the upcoming holiday weekend and into the summer, the biggest pain point for automotive service shops and car dealerships will be staffing. Technician shortages brought on by and ongoing labor shortage – and exacerbated by pandemic layoffs – has left many shops and dealerships unable to handle any spike in customers. For businesses to have a shot at capitalizing on the uptick in travel – and rebounding from 2020 – they'll need to get skilled automotive technicians hired fast, Parker said."I'm telling all my shops to make sure they are well staffed right now because in another three months the cars that are getting on the road now are going to need maintenance done to their vehicles," he said. "If they don't account for that uptick now, they are going to be overrun. To have an adequate shot at recouping some of the losses of last year, you have to have people to handle the maintenance requests that will inevitably come.
Contact an SCL Consultant today 
In a wide range of automotive, industrial and commercial sectors, SCL remains steadfast on its commitment to product and industry knowledge, performance satisfaction and superior logistics. We protect and optimize the machines that keep our country moving. For more information on how we help can help with services including bulk purchasing or managing inventory, contact an SCL expert today.