Protect Your Equipment By Following API's System
Service stations and facilities around the country follow an integrated coding and labeling system designed by the American Petroleum Institute (API) for the identification of fuels and fluids. Proper storage of these products adheres to the API color-coding system designed to prevent the cross-contamination of products and unnecessary and costly damage to vehicles and machinery. At SCL, we offer guidance on how to code and label your storage systems to maximize product integrity and ensure the safety of your valuable assets.
What is the API Color Coding System
The API color coding system is the national and universal standard for properly identifying aboveground and underground fuel storage tanks, fills, piping, equipment and vehicles at gas stations, service stations, warehouses and distribution terminals. API labeling is also a necessary component of fire codes within many municipalities. Fill pipes at various sites must be painted accordingly with a corresponding color or have external labels affixed in order to properly represent the product housed within. A clearly defined key or code chart must be visible nearby, with every employee educated on its location and how to interpret its contents. States, counties and municipalities often have inspectors who visit sites and stations to determine whether a business is in compliance with an appropriate labeling system that is easy for employees to decipher. The purpose of the API color coding system is to properly mark equipment used in the storage of bulk petroleum products such as regular unleaded gasoline, alcohol-blended fuels, diesel fuel, diesel exhaust fluid (DEF) and biodiesel. Aviation fuel is not included in this labeling system.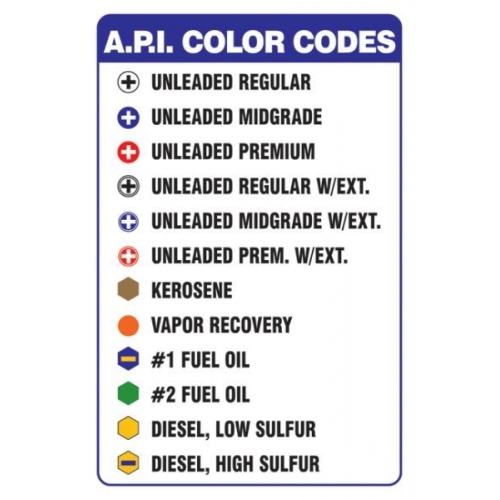 Where You Can Run Into Problems
Sometimes businesses opt to not follow the recommended API color coding system and instead rely solely on memorization, which can be problematic when you consider the possibility for human error and if you have multiple employees constantly coming and going. By using the API recommendations, businesses are free to design their own coding system, keeping within the parameters of the outlined symbols and colors. Not following API coding recommendations allows for a higher probability of cross-contamination, or what is known in the industry as a "cross-drop" or "cross-dump." No matter how confident you are in your coding system or in your employees, such mistakes are always a concern for facility managers because of the high cost associated with remedying a cross-contamination situation.
How to Prevent Cross-Contamination
If ever there is a discrepancy between which product goes in what storage container – NEVER GUESS. Mixing products can be disastrous, not only to your facility and fleet, but to your customer's equipment and vehicles as well. Protect yourself from the high cost of product cross-contamination by properly labeling your fuel storage tanks, fills, piping, equipment and vehicles at gas stations, service stations, warehouses and distribution terminals. When in doubt, make a call. Consult with dispatch or call an SCL consultant to schedule an oil analysis or a site visit to be clear about what you're putting into your tanks.
Why This is Important
The accidental mixing of petroleum products when pumped into the wrong underground storage tank (UST) can cost thousands of dollars to correct. The hefty price of replacing hundreds or thousands of gallons of fuel is compounded by the cost of pumping out the contaminated tank, housing the contaminated product, the financial impact of facility downtime while you remedy the situation and the cost of properly disposing of the contaminated fuel in compliance with the EPA's Environmental Compliance for Automotive Recyclers Center (ECAR). Cross-drops can lead to hundreds of thousands of dollars a year in lost revenue from not only wasted fuel and remediation, but from the impact on a business' reputation as well. Mixing one product with another can cause serious problems, such as accidentally combining diesel fuel with gasoline or different grades of gasoline containing alcohol with undiluted (neat) gasoline.
The Bottom Line
Fuel distributors and transporters have a lot of things to manage, and preventing cross-contamination is near the top of their list of priorities. Human error is generally the reason for such accidents, and having a clearly defined API-approved color-coding system for your fuel storage will significantly decrease the chances of having a costly cross-drop situation. Contact an SCL consultant today to discuss how to implement an API-approved color-coding system and what resources exist for making the transition, such as API color-symbol stencils or static cling and adhesive labels. A simple and inexpensive investment in one of these solutions can potentially save your fleet thousands of dollars and will maintain product integrity while enhancing peace of mind knowing that the right product is in the right storage container.
Contact an SCL Consultant Today
In a wide range of industrial sectors, SCL is committed to being the number one logistics and solutions provider for the products that protect and optimize the machines that keep our country moving. We pride ourselves on remaining at the forefront of industry trends and technological innovations, and as the market continues to evolve, we are committed to providing extensive product and industry knowledge and total performance satisfaction for our customers. For information on how we can assist your fleet in choosing the optimal products at a competitive price, contact an SCL consultant today.
Tags:
above ground tanks
,
American petroleum institute
,
API
,
proper tank labeling
,
SCL
,
sclubricants
,
tank labeling
,
underground tanks