Ongoing increases in raw materials, significant hikes in packaging, freight get the blame
On the heels of a dual increase on DEF in January 2022, suppliers have responded to a volatile market and continued cost hikes across the board with another increase ranging from 15% to 25% on finished lubricants taking effect as early as March 1. 
Although increases will take place on a rolling basis beginning on March 1, new prices will take effect for SCL customers in two phases. On March 7, increases for Philipps 66, Shell and Shell antifreezes, Olympus, Mobil, Valvoline and Lucas will occur. On March 28, increases for Chevron (25% + freight), and Castrol (20%) will go into effect.
According to Jobber's World, ongoing spikes in the cost of raw materials (base oils and additives) as well as "significant increases in the cost of packaging and freight" are to blame.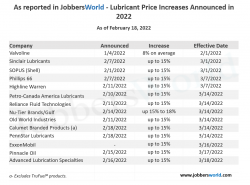 Oil is about 50 percent higher than a year ago," an article in Financial Times states. "Among the drivers: a post-lockdown resurgence in worldwide demand, geopolitical tensions ignited by oil giant Russia and strained supply chains."
"We are all doing our best to make it through these challenging times in our industry and take some proactive steps to identify cash flow and save where we can," said SCL General Manager Travis Becktel. "That's a priority for us and we know it's a priority for our customers. The market has proven this volatility isn't going anywhere soon, which means you have to keep a closer eye on your equipment, the type of products that you buy, and preventive maintenance programs that can help avoid costly repairs or having to take one of your machines out of rotation. We have the expertise to help customers dial in all those pieces so that the burden from these continued price increases isn't so heavy." 
For more information on programs, products, and bulk ordering that can help you save and keep your machines performing optimally, contact your SCL sales representative.
Price Increase Announcements:
• Shell Price Increase Announcement – 3.1.2022
• Shell Market Conditions Deck – 3.1.2022
• ExxonMobil Price Increase Announcement – 3.6.2022
• Phillips 66 Price Increase Announcement – 3.7.2022
• Amalie Price Increase Announcement – 3.2022
• North American Price Increase Announcement – 3.2022

• Chevron Price Increase Announcement – 3.28.2022
• Chevron Price Change Support Deck – 3.2022
• Castrol Price Increase Announcement – 4.1.2022
Contact an SCL Consultant today 
In a wide range of automotive, industrial and commercial sectors, SCL remains steadfast in its commitment to product and industry knowledge, performance satisfaction and superior logistics. We protect and optimize the machines that keep our country moving. For more information on how we can help with services including bulk purchasing or managing inventory, contact an SCL expert today.
Tags:
exxonmobil
,
finished lubricant price increase
,
finished lubricant prices
,
oil
,
oil prices
,
shell