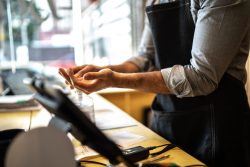 Petra Launches New Product in Individual and Bulk Sizes Until Supplies Last
As states begin reopening efforts following a weeks-long shutdown prompted by the coronavirus pandemic, safety of customers and employees remains a top concern across industry sectors.
In California, Gov. Gavin Newsom announced a phased reopening this week, with stage two including some retail, manufacturing, offices where telework is not possible, and some additional public spaces starting in the following weeks.
"We all know this is not going to be business as usual, and we want to make sure we're doing what we can to help our customers adapt," said SCL General Manager Travis Becktel.
In the wake of brands including Purell becoming exceedingly hard to come by, AVAILABLE MAY 11, SCL will be offering liquid hand sanitizer recently launched by Petra beginning May 11 in 55-gallon drums, 5-gallon cubes, gallon jugs, and 12-ounce refill bottles.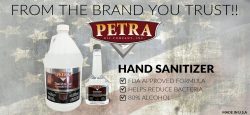 Prices by quantity are as follows while supplies last:
• 12 x 12-ounce refill bottles – $119.40 per case
• 4 x 1-gallon jugs (with hand pump) – $239.80 per case
• 5-gallon cubes – $239.75 each
• 55-gallon drums – $2,362.25 each
With 80% alcohol, the product manufactured by Petra exceeds recommendations by the Centers for Disease Control and Prevention that hand sanitizer should be at least 60% alcohol for the greatest microbial efficacy.
According to the CDC, proper hand washing for at least 20 seconds is preferred over hand sanitizer. When used in place of handwashing, hand sanitizer should be applied liberally. "Don't be conservative with your sanitizer," states The New York Times. "… For it to work, you need to cover every surface of both hands entirely with the sanitizer and rub until dry."
For information on placing an order, contact your SCL sales representative.
Contact an SCL Consultant today 
In a wide range of automotive, industrial and commercial sectors, SCL remains steadfast on its commitment to product and industry knowledge, performance satisfaction and superior logistics. We protect and optimize the machines that keep our country moving. For more information on how we help can help with services including bulk purchasing or managing inventory, contact an SCL expert today.
Tags:
coronavirus
,
coronavirus epidemic
,
customer safety
,
hand sanitizer
,
SCL products